*****Tuesday night tournament @ 7:00pm – 20 March is the last match – TOURNAMENT IS FILLED*****21st March Taxation Bowlers v CoHBC Social Bowls*****24th March @ the Club – social bowls then President's Wrap @ 3:00pm******6th April – Club dinner – add your names to the list by 4th April*****14th April – CoHBC Tournament*****Free – novice bowls tournament – Wednesdays @ 6:30pm – 7-28 March – see our News tab for further info*****Casual Bowling Wednesdays @ 6:30pm and Fridays from 5:00pm*****
WELCOME TO CITY OF HEIDELBERG BOWLING CLUB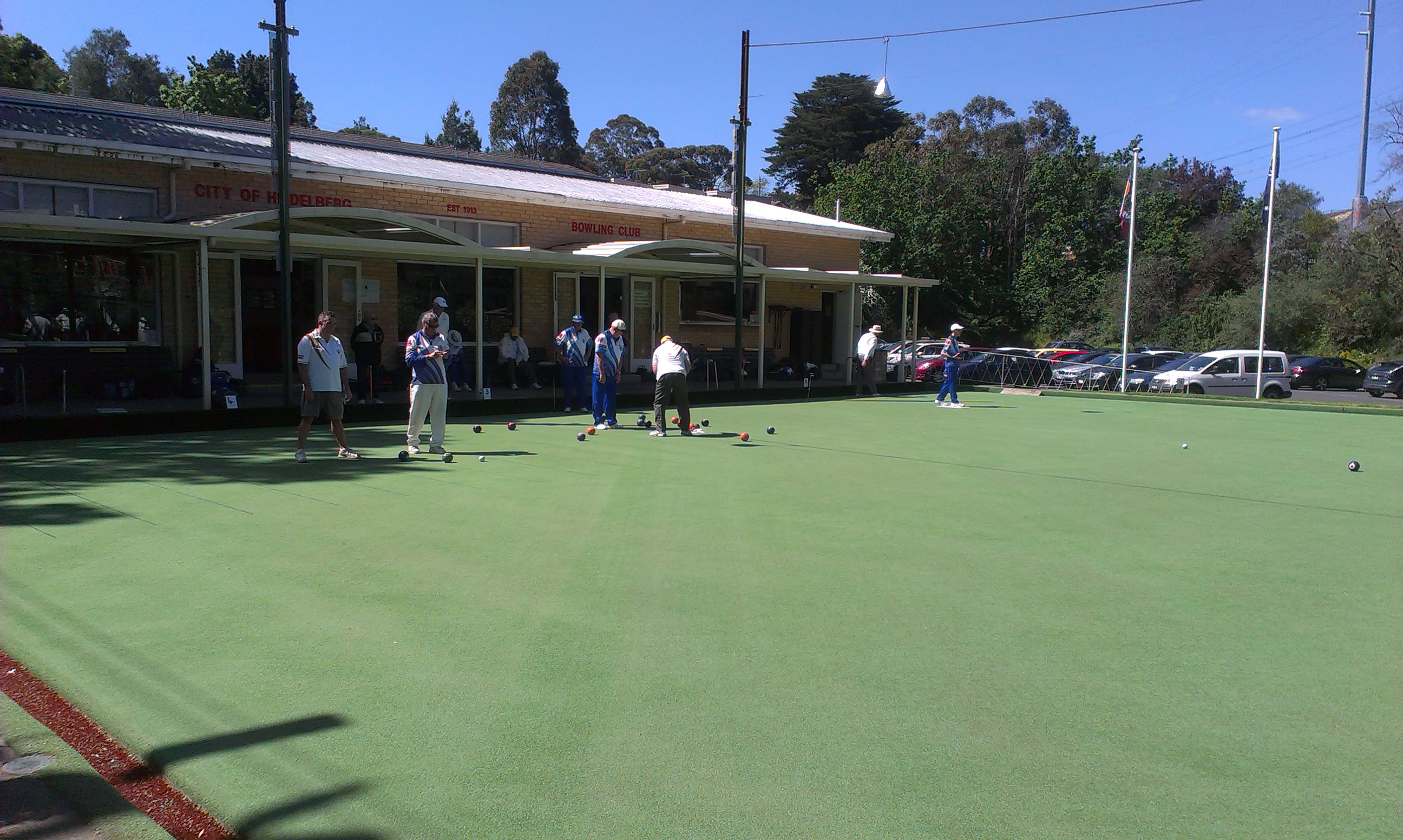 Our club provides bowling opportunities for everyone, no matter what your experience, ability or age.   We are a friendly club, offering social and pennant bowling to all levels. We have bowls and free tuition for new members.  
Our club coach Carmelo is available for one on one or group coaching.    
Check our website for information on our many bowling and social activities.  We have a well stocked bar with low prices AND PLENTY OF OFF STREET PARKING.       
---
WORK ON OUR NEW BOTTOM GREEN HAS STARTED
Work started today – 19th March – on our new bottom green. Watch this space to see the progress being made.
SEE 'PHOTO GALLERY TAB' FOR MORE PHOTOS
---
CoHBC IS HOSTING A WEEKLY TOURNAMENT ON TUESDAY EVENINGS STARTING 7:00PM
OUR LAST 

MATCH FOR THIS TOURNAMENT IS 20th MARCH
NIGHTLY PRIZES 

END OF TOURNAMENT PRIZE

GREAT SUPPER AFTER THE MATCH
PRIZES WILL BE PRESENTED ON BEHALF OUR SPONSOR – TOTAL PHYSIOCARE
OUR TOURNAMENT IS FULL FOR THE 20TH MARCH
---
END OF SEASON PRESIDENT'S WRAP AND DISCUSSION ON VARIOUS TOPICS OF INTEREST
WHEN – SATURDAY 24TH MARCH

TIME – 3:00pm
Play social bowls from 12:30pm – have a cuppa – then join in the discussions.
READ MORE IN 'BOWLING TAB'
---
WEDNESDAY

EVENING NOVICE LAWN BOWLS TOURNAMENT  – 7 – 28 MARCH – NO ENTRY FEE 
STARTS 6:30PM
Would you like to participate in a short tournament with your friends?  Just get 4 people together and join us at the Club on Wednesday evenings in March. No experience necessary nor any fees. Experienced bowlers are excluded. The tournament is for four bowlers per team and over a four week duration. Get your workmates, family, neighbours or friends and form a team of four people and come and have fun lawn bowling.    If unable to make a complete team of four, individuals can be accommodated.
FOR FURTHER INFORMATION AND TO ENTER YOUR TEAM – CONTACT BRIAN 0428 713 578
---
CoHBC INTRA CLUB TOURNAMENT
WHEN – SATURDAY 14th APRIL          
TIME – 10:00AM              
ADD YOUR NAMES TO THE LIST IN THE CLUBHOUSE BY 31st MARCH
 READ MORE IN 'NEWS TAB'
---
CASUAL LAWN BOWLS
OUR CLUB IS OPEN FOR CASUAL BOWLING
WEDNESDAYS – FROM 6:30PM
FRIDAYS – FROM 5:00PM
ENJOY THE WARM EVENINGS – HAVE FUN PLAYING LAWN BOWLS -AVAILABLE FOR UP TO 8 PEOPLE IN A GROUP – LAWN BOWLS SUPPLIED AND INITIAL TUITION IF REQUIRED – JUST COME ALONG.
OUR BAR IS OPEN WITH LOW PRICES.
CONTACT BRIAN FOR INFO – MOBILE 0428 713 578.
---
FRIDAY EVENINGS AT THE CLUB
Each Friday (except the first Friday of the month when we have our monthly dinner) we have a get together at the Club, play cards, scrabble, chat, play lawn bowls, plus light food is on offer and our bar is open.   Join us from 4:00pm.   And of course there is the Member Jackpot.
MEMBER JACKPOT
Our Jackpot on the 16th March was $330 and our lucky Club member was Steve Pearce who unfortunately wasn't at the Club.  
AT THE 23rd MARCH 2018   The Member Jackpot is at $340.  Be at the Club to have a chance to win.
THE MONEY OR THE ENVELOPE
 Is drawn on the last Friday of each month, so get your free tickets into the bucket and be at the Club to have a chance to bargain for 'The Money or the Envelope'.   So if you are at the club and yours is the lucky name drawn there will be 16  Envelopes with prizes to choose from, then bargain – do you want the money on offer or the envelope?
CARDS  – Euchre is on each week.  Unsure of how to play?  Come along and see how easy it is.
---
OUR NEXT CLUB DINNER IS FRIDAY 6th APRIL – FROM 5:30pm

The chefs for this month's dinner are 'The Board'                           
ADD YOUR NAMES TO THE LIST BT 4TH APRIL
---
BOWLS VIC NEWS
Pennant Season 2018/2019 Update
The Bowls Victoria Board has decided that the Saturday Metropolitan Pennant Competition will remain in its current form for the 2018-19 season.
READ MORE IN 'PENNANT TAB' or click here
Do You Know Some of the Finer Points of Lawn Bowling?
Position on the Mat – Before the delivery of the jack or bowl, a player must be standing on the mat with all or part of at least one foot on the mat. At the moment they deliver the jack or a bowl, the player must have all or part of one foot on or above the mat.
see Laws of the Sport of Bowls – Jan 2015 – Law 7.1
---